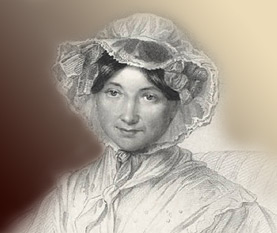 Case Study
Frances Trollope
Writer · Traveller · Mother · Expatriate
There is a bit of a history to our study of Frances Trollope (1779-1863) in Collective Biographies of Women. A good short biography by Susie Ranny and Ashley Overbay, undergraduates in Alison Booth's course, Lives of the Victorians. This is one of the twenty-one Featured Subjects we completed with Joe Gilbert of the University of Virginia Library's Scholars' Lab and a range of research assistants, before Alison began work with Virginia's Institute for Advanced Technology in the Humanities, around 2009. CBW still aims to help any user research individual women, the narrative versions of their lives, and the cohorts and networks formed in group representations or prosopographies. But the Featured Subject of Trollope is a good place to start a case study: Read more
"Frances Trollope's nature was such that she welcomed every ray of sunshine, and diffused it again liberally around her. To her children no holiday was preferable to a tête-a-tête with her" (Trollope, 47), Frances Eleanor Trollope writes of her husband Thomas Adolphus Trollope's mother, famed novelist and travel writer Frances Milton Trollope. Best known for her unflattering portrayal of young American democracy and "civilization" in Domestic Manners of the Americans (1832), "Fanny" was best recognized in her family for her loving nature, great intelligence, and delightful sense of humor. Ironically, however, Americans of the period found Mrs. Trollope to be every bit as crass as the backward peoples she described. Fanny, for her part, entered America a poor, liberal, enterprising, and hopeful mother, and left the country four years later poorer still, conservative, and downtrodden. Yet Fanny ultimately saved her own family through her caricature of American life and her production of pleasing fiction.
Like the chapter-length biographies that various biographers and publishers (presenters, we call them) assembled in a single volume of women's lives, this collaboration of two students on a short research project stitches together the sources at hand in an effective narrative, working toward a practical purpose (deadline and grade; book sales). Unlike the books in CBW's bibliography, the students cite sources such as the first full-length biography of Trollope by her daughter-in-law.
When CBW's study of women's biographies had developed a schema for analyzing narrative structure in sets of books that include one woman, we began with the digitized books that include Sister Dora and Lola Montez, antithetical types never placed in the same collection of biographies. When it came to choosing additional sample corpora of texts to interpret for consistencies and differences in plot, event, description of the persona, narrative technique, and other features of biography, Alison sought a woman writer who did not appear in the saintly-commendable set of siblings of Sister Dora. (A sibling, in CBW, is a someone in the same table of contents.)
We realized that Trollope is not only interesting in her own right (of course), and convenient as a Featured Subject who was considered a good woman and who reaches beyond our Sister Dora cohort. Trollope also occupies some very common types in the range of female typology that we discover in CBW. The novelist could represent the many women writers who earn a biography in these publications. As Susie Ranny and Ashley Overbay note, she made her name and recouped her family's finances with her travel writing, and travel writers also are a frequent type of persona captured in these collections. And some short biographies of Trollope are structured to fit into collections of mothers of great men. Of course, Anthony Trollope is a perennial favorite among readers of Victorian fiction, ourselves included. Scholars have begun to do justice to Fanny Trollope's novels.
We want you to freely explore what you can reveal about Trollope's intersections with the networks and typologies formed by the versions of women's lives in CBW's texts. Briefly, then, we summarize what we discovered in BESS analysis of the main variations of the biographies of Trollope in CBW collections. These chapters were mostly prompted by American indignation at Trollope's slurs in Domestic Manners of the Americans. Presenters had little direct information, and so slighted her birth and death, and were in the dark about her children's lives and deaths as well as her marriage. With a few exceptions, they showed little awareness of her many publications, or her residence in Italy for the last decades of her life. We found that most of the paragraphs in a Trollope biography—of course in the context of this genre—consisted of summary of the writer's works. This is very likely to prove true of other biographies of writers in CBW, as it certainly does in some collections that include Trollope among women writers.
Narratology
BESS Viewer
About BESS